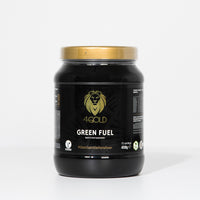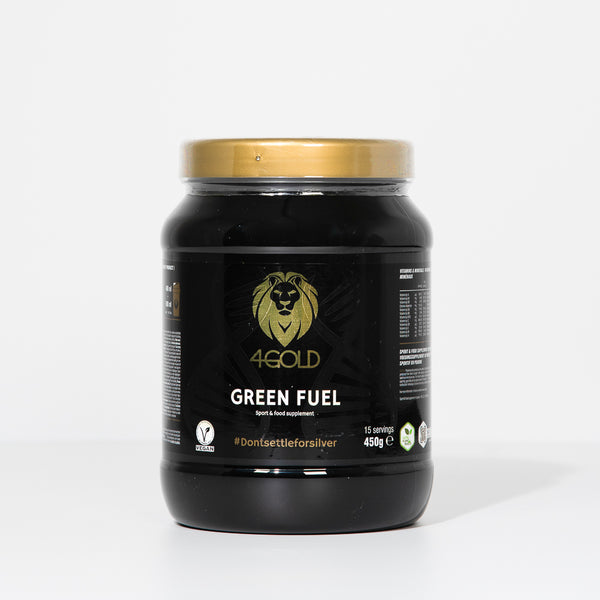 Contains all superfoods combined in one drink and has hundreds of benefits for your health and performance. 
Choose size: 450g  
Safe to use, every batch is tested 

Proudly made in Belgium 

🇧🇪 
Our organic Green fuel has all superfoods combined in one drink a day. 
75 different minerals, prebiotics, vitamins, adaptogens and whole food sourced nutrients

Efficiently absorbed by the body

Scientifically developed and used by top athletes
HUNDREDS OF BENEFITS
Protein from Spirulina, Chlorella, Pumpkin - and Sunflower seeds contributes to the maintenance of muscle mass.
Calcium contributes to the normal function of digestive enzymes.
Copper contributes to normal function of the immune system.
Vitamin D, calcium, magnesium and phosphorus contribute to the maintenance of normal bones and normal teeth.
And many more....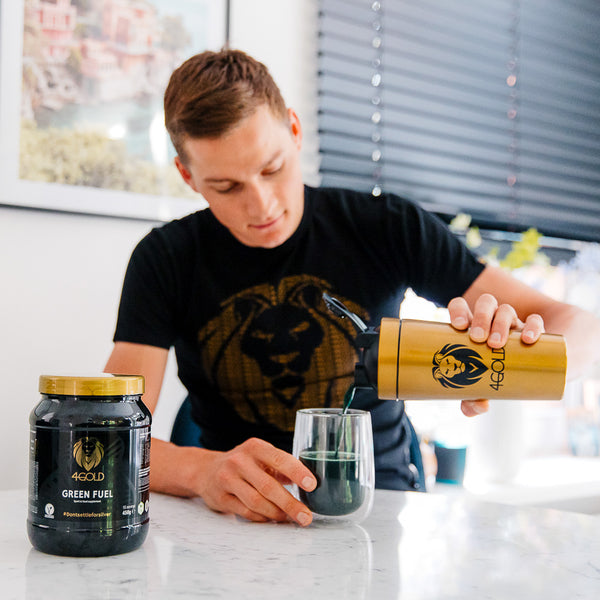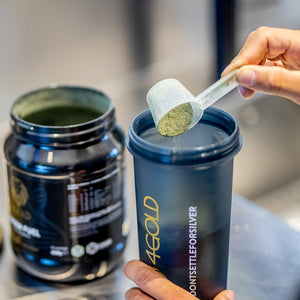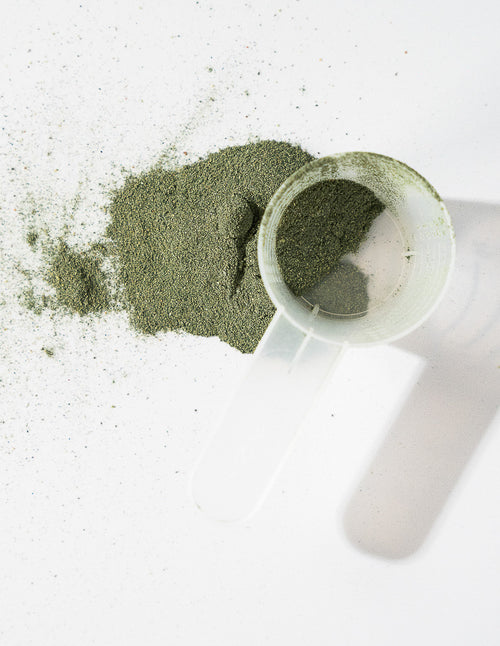 75 (!) DIFFERENT INGREDIENTS
Vitamins: Choline, Omega 6 (GLA), Vitamin A, Vitamin B1, Vitamin B2, Vitamin B5, Vitamin B6, Vitamin B12, Vitamin C, Vitamin D, Vitamin E, Vitamin H, Vitamin K, Vitamin M.

Minerals: Boron, Calcium, Chromium, Copper, Iodine, Iron, Magnesium, Manganese, Molybdenum. Potassium.

Whole foods: Alfalfa, Aloë vera, Amla berry, Apple, Artichoke, Asparagus, Avocado, Barley, Beetroot, Bilberry, Broccoli, Cabbage, Chlorella, Cucumber, Endive, Fennel, Kelp, Lime, Mangistan, Oat, Papaya, Pea Protein, Pear, Pineapple, Pumpkin, Spinach, Spirulina, Sunflower seeds, Tomato, Watermelon, Wheatgrass.

Adaptogens & nutrigenomic ingredients: Astragalus, Ashwagandha, Black - & white pepper, Camellia Sinensis (EGCG), Curcumin, Dandelion root, Ginger, Ginkgo Biloba, Ginseng, Guarana seeds, Gotu Kola, Grape seed extract, Konjac, MGN-3, Nettle, Sea Fennel.

Prebiotics: FOS, Inulin.
FAQ
Is this product Vegan friendly?
Yes, it is.
What exactly does organic mean?
It means that we have deliberately chosen organic ingredients. The fruit and vegetables in our Green fuel were grown by organic farmers without the use of artificial fertilisers or chemical pesticides because we want to do our part to preserve biodiversity.
You can use Greens every day in a full or partial serving. We advise to take 1 or 2 scoops with 250-500ml of water, pineapple juice, apple juice or in a smoothie. There are several possibilities, just do what you like best.
Is the Green fuel tested for banned substances?
Yes, it is. Every single supplement of our product range is third party tested for banned substances. 4Gold provides full transparency, you can check your product's batch number
here
.
This is the study of the effects of food and food constituents on gene expression.
"For me, Green fuel is a top product that you have to give time to get used to and experiment with. 2 full scoops a day is a bit too strong for me personally, so I take it every other day, preferably mixing it in a blender with fresh orange juice and possibly a piece of pineapple. So convenient that you can have your daily "greens" in no time."
ROXANNE BERTELS
"For me, the Green fuel is a great way to get enough vitamins and minerals, and I also feel more energetic when I take it."
GLENN COLDENHOFF
Professional motocrosser
"My favourite green fuel smoothie: mix 1 scoop of green fuel with frozen berries, half a banana and almond milk and feel the advantage of the greens."
JUSTINE VANHAEVERMAET
Professional soccerplayer at Reading FC
Customer Reviews
Write a Review
Ask a Question
Filter Reviews:
produit
goods
zumos
cereales
leches
totalidad
organismo
funciones
therme
expérimentation
12/10/2023
Patrick S.

Belgium
freen fuel
well, the best fuel ever.....it's my favorite day after day.
29/08/2023
Nannie V.

Netherlands
Goede fuel, slechte smaak
Ik voel me fit, sport prestaties gaan omhoog. Alleen de smaak... na een week kon ik het zonder te kokhalzen drinken, maar favoriet is het zeker niet!
29/08/2023
Matthijs v.

Netherlands
Order 4gold
Very fast delivery and high quality goods
29/08/2023
Vanessa F.

Germany
15/08/2023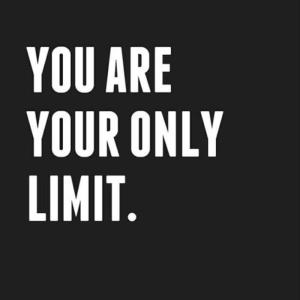 ED
Eva D.

Belgium
Speciale smaak maar enorm goed product
Voorheen nam ik een soort alkalizer van een ander merk en uit nieuwsgierigheid heb ik de green fuel eens uitgeprobeerd en ik merk dat het een heel positief effect heeft op mijn lichaam en mijn energieniveau. De smaak is wel enorm wennen, ik herken de typerende smaak erin van de nutrigenomic recovery. Of het ooit went? Ik weet het niet; ik vrees dat ik van de smaak nooit echt fan zal worden, maar ik probeer mij erover te zetten over de typerende smaak omdat het zoveel beter is.
26/07/2023
Koen V.

Belgium
Green fuel
Een goeie start in de dag
23/07/2023
Louis K.

Belgium
Nice but not tasty
I feel the energy but the thaste is a hard one to take
15/06/2023
Joren V.

Belgium
Goed product
Smaakt is even wennen. De eerste dagen ging het moeilijk binnen, maar dat is ondertussen beter. Ik voel mij goed bij het product dus zeker een aanrader
23/03/2023
Ramon V.

Spain
Gold produc
Excelente , con cereales , leches vegetales , agua o zumos .
15/03/2023
Rob N.

Belgium
Top
Doet wat moet geen last van een vieze smaak
26/02/2023
Nicolas R.

Belgium
Green Fuel
Très bon produit Facile à digérer
23/01/2023
Ward P.

Belgium
Top product, (duurzame) refill verpakkingen zouden leuk zijn
Doet wat het belooft! Wel even wennen aan de smaak en textuur, maar na een paar weken lukt dat perfect en wordt het zelfs aangenaam. Zoals bij alle 4G producten voel ik me wel wat ongemakkelijk bij de grote plastieken wegwerppotten. Ze zijn vooreerst maar voor de helft gevuld, en zouden bovendien perfect herbruikt kunnen worden als er refills waren in (duurzame) zakjes. Veel overbodig afval nu.
Hi Ward, Bedankt voor je fijne review! We bekijken momenteel de mogelijkheden rondom refill verpakkingen. We zijn hier dus zeker mee bezig.
26/12/2022
Ramon V.

Spain
Excelente
Excelente producto Ayuda en la totalidad de funciones del organismo . Muy recomendable .
30/11/2022
Arne T.

Belgium
Winterboost!
Smaak is wat wennen, maar werking is naar verwachting!
02/11/2022
Mohamed B.

France
28/10/2022
Katarzyna B.

Belgium
Great product
Very good product. After using it regularly I feel like my energy level is higher.