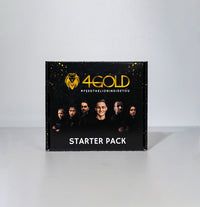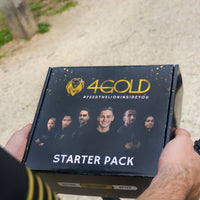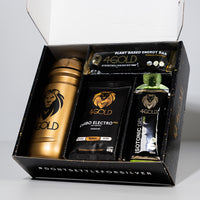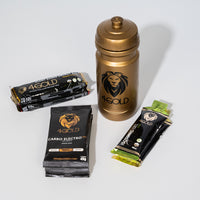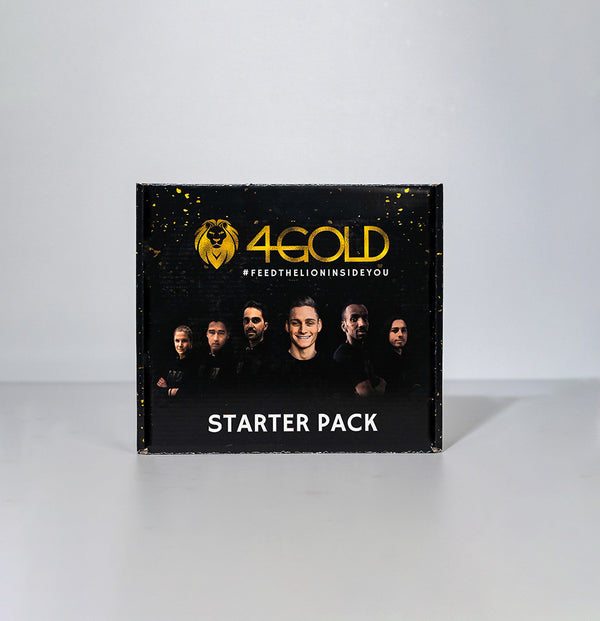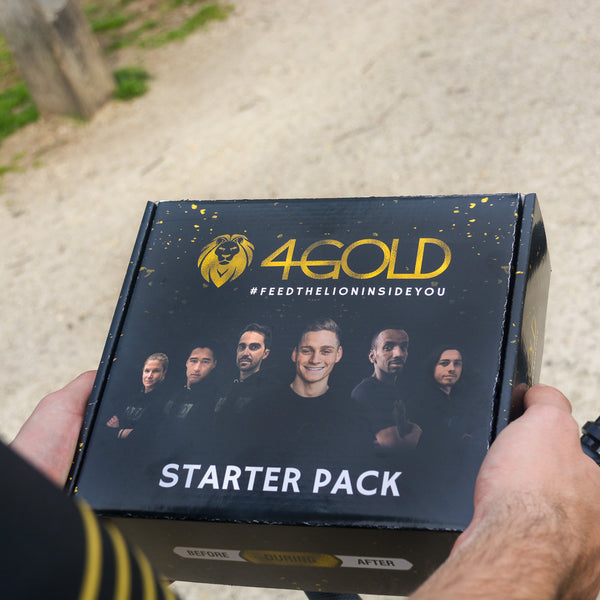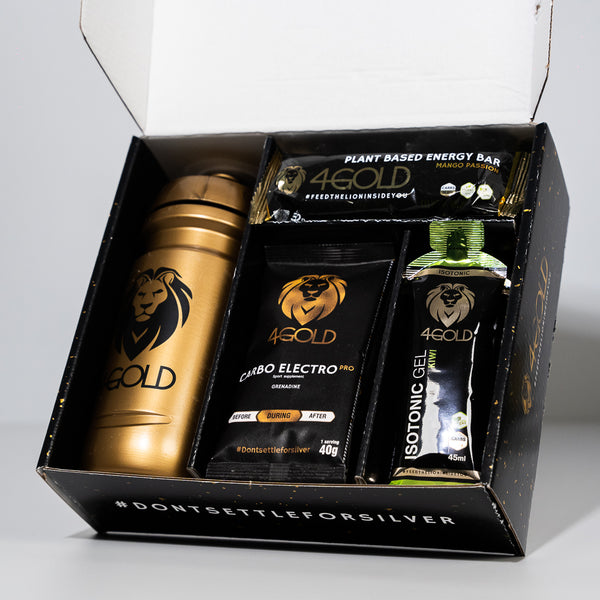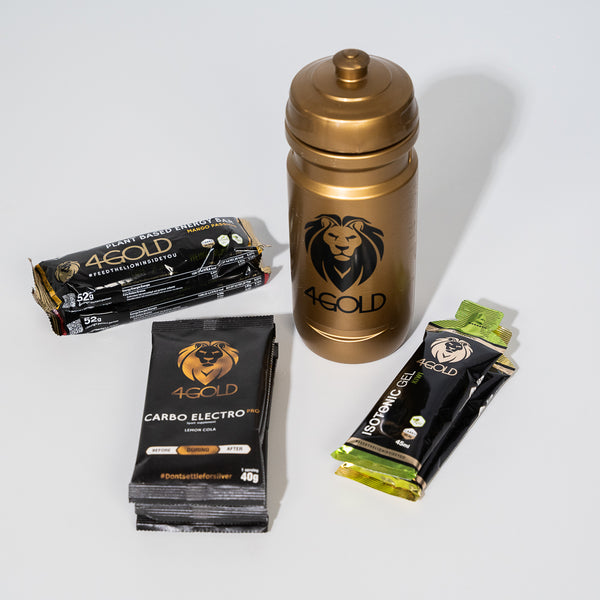 Do you cycle or run for more than one hour per workout and several times a week? And do you find that you need supplements so that you can continue the effort? With the 4Gold Starter Pack you can get acquainted with our gastrointestinal-friendly sports nutrition. The pack was specifically composed with supplements that replenish your energy supply and fluid balance during exercise. Ideal for those looking for suitable sports nutrition.

DISCOVER US
The Starter Pack includes:
Our raw organic plant based energy bars contain high quality carbohydrates in a 2:1 ratio that provides you with long-term energy during exercise.
Our Isotonic Gels contain a 2:1 blend of high-quality carbohydrates: maltodextrin, dextrose and fructose. The formula provides rapid absorption and allows the gels to be used without drinking additional water. The carbohydrate-electrolyte solution helps maintain performance during prolonged endurance sports
3x Single serving Carbo Electro
Premium isotonic drink consists of a carbohydrate-electrolyte solution that helps maintain performance during an endurance effort. In addition, it helps restore fluid balance by improving water absorption during physical exertion.
1x Golden Bottle 600ml
Our Golden bottle has an ergonomic and timeless design, easy twist-off cap and fits perfectly into any water bottle cage, so you can provide yourself with energy during all your workouts.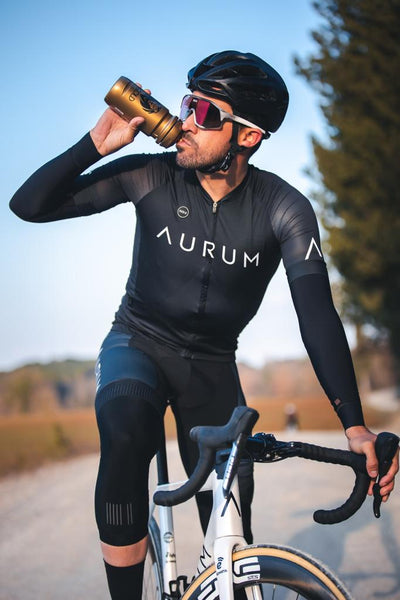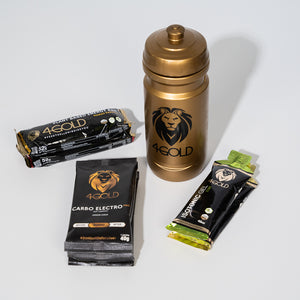 FAQ
Which payment methods are available?
PayPal: Pay fast and secure with your personal PayPal account.
Credit card: We accept Visa, Mastercard, Cartes bancaires and American Express.
Bancontact: Pay with the KBC Payment buttom, ING Home'Pay or Belfius Direct Net.
iDEAL:Safe and easy online payment with your bank account.
Sofort banking: SOFORT Banking is available in Germany, Austria, the Netherlands, Switzerland, Italy, Spain, Belgium and Poland. It works with most consumer banks from these countries. 
Electronic Payment Standard (EPS): The most common online payment method in Austria.
Giropay: Giropay is a popular bank transfer payment method in Germany.
Apple Pay: Apple Pay is Apple's proprietary payment method, available in more than 35 countries for all Apple users.
Google pay: Google's proprietary payment method. Available in 40 countries for Android users.
We are currently shipping to the following countries:
Europe: Belgium, Bulgaria, Denmark, Germany, Estonia, Finland, France, Greece, Hungary, Ireland, Italy, Latvia, Lithuania, Luxembourg, The Netherlands, Norway, Austria, Poland, Portugal (+ Madeira, Acores), Romania, Slovenia, Slovakia, Spain (+ Canary Islands), Czech Republic, United Kingdom, Sweden, Switzerland
North America: Canada, United States
South America: Colombia
Middle East: United Arab Emirates (UEA)
Africa: South Africa
Asia, Australia & New Zealand: Australia, Japan, New Zealand, Indonesia and Singapore.
We are constantly working to improve international distribution, so check back soon if the country of your destination is not listed.
Can I track the delivery of my order?
Yes, of course. After your order has been processed, you will receive an email with tracking information. This way you can track the order and have information about the delivery date.
"The Carbo Electro helps me to perform optimally during long hard races, without stomach or intestinal complaints. Even during very hot days I can keep drinking this isotonic drink. It simply makes me feel very good."
MATHIEU VAN DER POEL
Co-founder 4GOLD
"Due to my sensitive intestines, I could tolerate little to no energy bars and I used to make all my bars myself. Very happy that I can finally count on good bars again during my endurance rides with these plant based energy bars."
LAURENS VANTHOOR
Professional racer
"The isotonic gels have a perfect texture to take while running, ideal that you do not need to drink with them. The packaging is also very easy to open."
BASHIR ABDI
European record holder on the marathon


Customer Reviews
Write a Review
Ask a Question
Filter Reviews:
products
taste
bars
gels
stomach
energy bars
starter pack
package
bottle
experience
11/12/2023
Bob K.

Netherlands
SUPER Product
Always good to sometimes order a set of different flavors. Product is amazing and actually completly moved from Bars to only liquid nutrition, works 100% better for your stomach and metabolism.
Kennismaken
Leuk om zo kennis te maken met 4gold
29/10/2023
Achiel D.

Belgium
Starter kit
Perfecte hoeveelheid om uit te testen welke smaken je liggen en welke niet. Dat allemaal voor 20 euro. Super ! Bedankt 4gold
13/10/2023
Nathalie M.

Netherlands
Love it
I like all the items from the starterkit, good taste and no stomach pain or something. I think I am going to use 4gold again.
Hi Nathalie, Thank you for taking the time to write a review. Very happy to hear this. Brent
03/10/2023
Patrick T.

Belgium
Test pakket geprobeerd
Ik heb de Carbon electro en de energy bar geprobeerd,mijn eerste indruk is dat het wel goede producten zijn.
25/09/2023
Anja G.

Germany
Starter Pack
Sehr gut. Es hat uns voll überzeugt.
24/09/2023
Pieter M.

Belgium
Great insight into the range of products.
Extremely helpful on the long rides. Both the caffeine and regular gels provide quick and efficient carbs. The liquid carbs help fuel the longer rides aswell.
04/09/2023
Mauricio A.

Spain
Muy buenos
Me siento muy bien cuando uso los productos . Me dan energía sin tener síntomas intestinales
01/09/2023
Stef O.

Belgium
Take my money
Best products i ever used ! No problems with my stomach. Muscles less tired after and while my workout (game). So i will order more for sure Gold 4gold ! Thanks.
29/08/2023
Leslie v.

Netherlands
Perfecte voeding
Ik heb bij veel gells en sportdranken last van kortademigheid. Maar bij de producten van 4gold totaal geen last van. Heel prettig in gebruik.
29/08/2023
Vanessa F.

Germany
Nice to try out
Good to find out what is your favourite product with different flavours to try out and with the golden bottle, it's kind of a Nixe giveaway
22/08/2023
Erwin D.

Belgium
Starter pack
Overtreft alle verwachtingen, is een blijvertje!
21/08/2023
Bart V.

Belgium
Lets start
great products, excellent service
14/08/2023
Ann V.

Belgium
Starter Pack
De smaken vielen heel goed . De producten doen wat ze beloven. Geven de energie die ik nodig heb.
13/08/2023
Maxim V.

Belgium
Carbo flavors
I did not like any of the carbohydrate flavors, the aftertaste was pretty weird , the taste of the Gells and bars were Amazing though and very easy on the stomach
20/07/2023
Luiz D.

Belgium
Fantastic
The iso gels and bars really helped me during my workouts