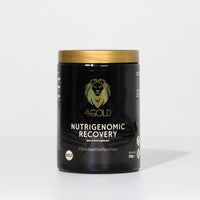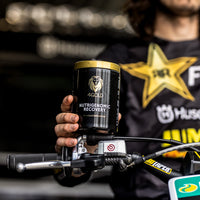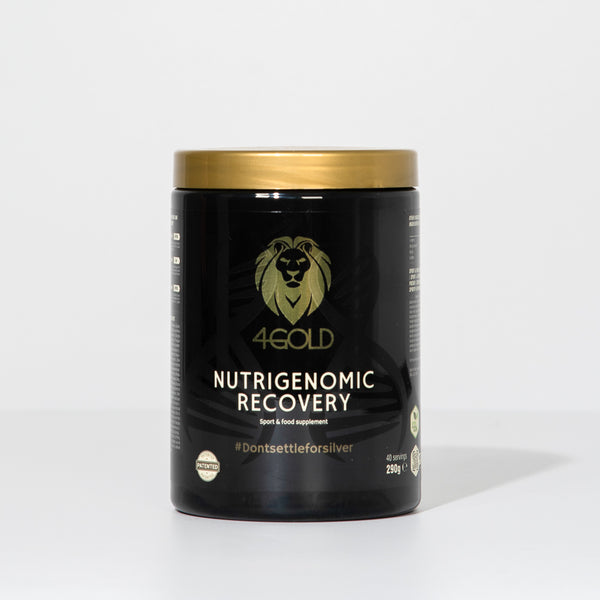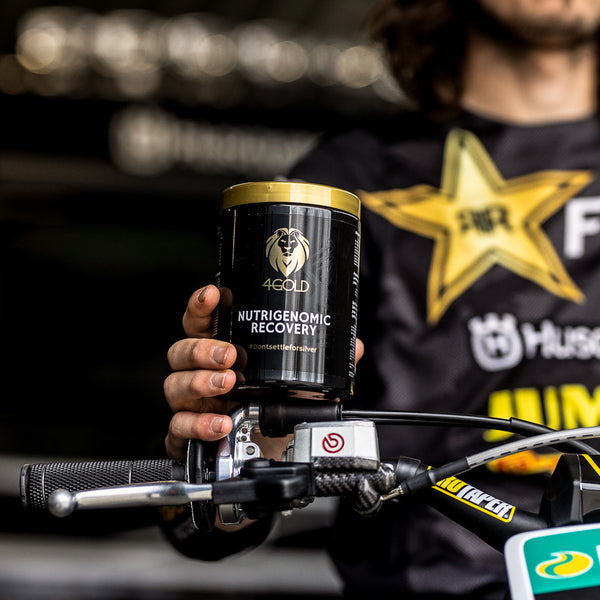 Nutrigenomic Recovery
€37,90
Patented and innovative formulation with nutrigenomic ingredients. 
Choose size: 290g  
Flavour: Watermelon
Safe to use, every batch is tested -

check your batch

Proudly made in Belgium 

🇧🇪 
Contains a special blend of vitamins, minerals, antioxidants and nutrigenomic ingredients. 
Zinc contributes to normal DNA synthesis

Contains nutrigenomic ingredients

Contains 23mg of Sulforaphane and 205mg of Curcumin

Scientifically developed and tested by top athletes
RECOVERY IS DIFFERENT FOR EVERYONE
The way in which our body recovers from physical exercise is very personal. Your own genetic code determines how well and quickly you recover and to what extent your diet can have an effect on your recovery. Choosing the right nutrients. is very important for a good and fast result.

Our Nutrigenomic Recovery has been developed as an addition to the normal nutrition of athletes. It contains a special blend nutrigenomic ingredients and we have added electrolytes and vitamins for an optimal effect:

Zinc contributes to normal DNA synthesis .
Vitamin B2 (Riboflavin), vitamin E, copper, manganese, selenium and zinc contribute to the protection of cells from oxidative stress.
Magnesium contributes to a reduction of tiredness and fatigue.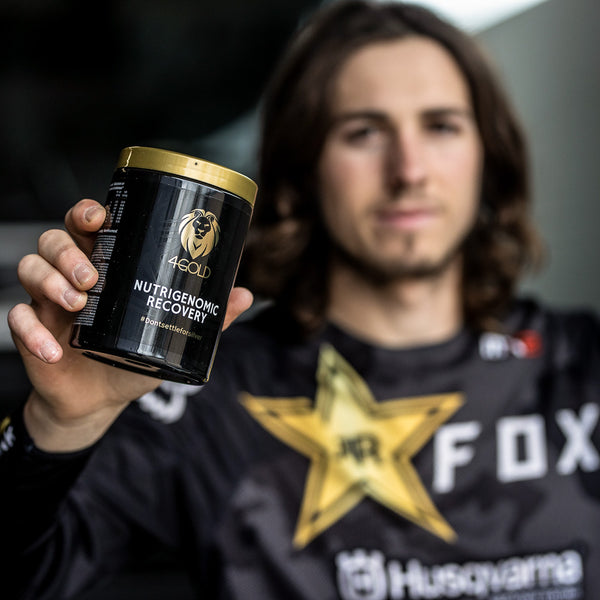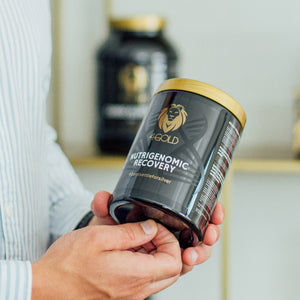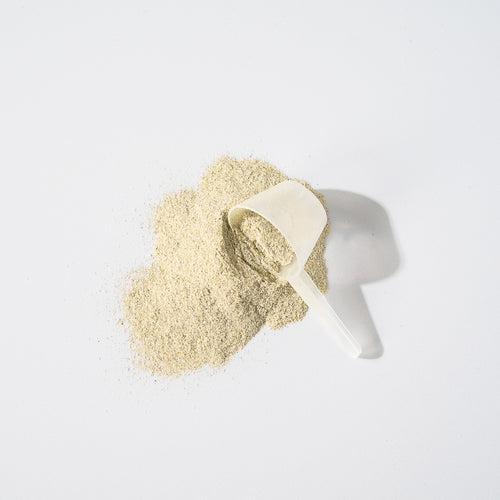 NUTRIGENOMIC INGREDIENTS
Nutrigenomics is the study of the effects of food and food constituents on gene expression, and how genetic variations affect the nutritional environment.

Contains 23mg of sulforaphane and 205mg of curcumin , both are generally accepted as nutrigenomic nutrients :


FAQ
Is this product Vegan friendly?
Yes it is.
Nutrigenomics is the study of the effects of food and food constituents on gene expression.
Do I need to do the 4Gold DNA analysis before using this product?
No you don't. Our product will work for everyone, but with our DNA analysis as a starting point we can look if you have a bigger or lower need for our nutrigenomic recovery.
Is the Nutrigenomic recovery tested for banned substances?
Yes, it is. Every single supplement of our product range is third party tested for banned substances. 4Gold provides full transparency, you can check your product's batch number
here
.
How should I use the nutrigenomic recovery?
We designed this product to work synergistically with the classic 4Gold Recovery, but should not be taken directly together with it. The classic 4Gold Recovery is designed to be taken directly after exercise and for the best effect of the Nutrigenomic Recovery it's best to take this supplement continuously for a period of at least 3 weeks. Every day at least 4 hours after exercise or just before you go to sleep.
"The DNA analysis revealed that I have a problem with my redox balance. In periods of heavy training work (such as training camps), the nutrigenomic recovery helps me to generally handle more training load. Here I really feel a difference compared to before."
JAMIE RIDDLE
Professional triathlete
"In periods of heavy training work, the nutrigenomic recovery is a really good supplement for me. I feel that I increase my capacity as an endurance athlete, so I'm less tired and can handle more training than when I don't take it."
MATHIEU VAN DER POEL
Co-founder 4GOLD
Customer Reviews
Write a Review
Ask a Question
Filter Reviews:
recovery
legs
proof
FTP test
facts
nutrigenomic recovery
rest
Ironman
recharge
race
06/12/2023
Kato A.

Belgium
Nutrigenomic recovery
It's very good for extra recovery of the muscles. The next day after a hard training day, my legs feel good and recovered
13/11/2023
Niels G.

Belgium
Topproduct
Na enkele dagen dit product samen met de recorvery te gebruiken merk ik dat de spierspijn en vermoeiheid minder is, dan voorheen! Top en lekker van smaak.
02/08/2023
Robert J.

Belgium
Difficile dire
Deja 2 semaines je prends nutrigenomic et difficle dire qq chose en plus. Je prends plus souvent avant dormir. Quand dans journée.
25/07/2023
Ray

Netherlands
Achieved 5 watts p/kg thanks to nutrigenomic recovery
I've been cycling for decades and always struggled to improve myself due to a lacking recovery. But since this year I've been using nutrigenomic recovery. I could really begin to feel the difference between stiff legs after a training without nutrigenomic recovery or with. But to prove it with scientific facts I went for a FTP test @ Jeroen Bosch Hospital. And there I received the best results ever: 5 watts p/kg. How much proof do you need for this product. I could never cope without it!
09/06/2023
Michiel V.

Belgium
Recovery
Goede recuperatie bij zware, moeilijke of stressvolle dagen. Nemen voor je slaapt en de dag erna ben je weer fris en fruitig!!
10/05/2023
Antonello D.

Italy
ironman Ricoveri
In this period in which I am preparing for an Ironman race, this product is crucial for my rest and my recharge. Never rested so well
26/03/2023
Waldo W.

Belgium
There are better tastes to give a drink
I did not like the taste.
13/01/2023
Rob K.

Belgium
Good recovery!
If feel the difference when I take this one. When I don't take it, I feel not as fresh the day after.
26/12/2022
Ramon V.

Spain
Excelente
Excelente ayuda digestiva Muy recomendable .
18/07/2022
Miguel S.

Portugal
Vegetable recovery
Great night recovery with vegetable ingredients for better quality recovery
14/06/2022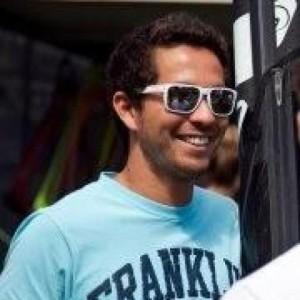 FP
Francesco P.

Italy
work it!
after the first 3 weeks I can see that i recover better. I will go ahead another 1 month and than stop for 3 weeks to don't get used to it. (as raccomanded from 4gold)
16/05/2022
Miguel S.

Portugal
Great recovery drink
I've been using this before bed for more than 1 year now and in synergy with the other 4Gold products e feel very well on the next day to tackle another workout.
Nutrigenomic Recovery
Ik heb dit nu al enkele malen gebruikt na een lange of intensieve training, zoals voorgeschreven voor het slapengaan. Ik merkte duidelijk een verschil met vroeger. Veel meer energie in de benen en in het algemeen ook een beter gevoel. Ik ga dit zeker blijven gebruiken!
Nutrigenomic Recovery
Even wennen aan de smaak en gebruik deze voor slapen gaan. Goed hertstel .
Nutrigenomic Recovery
Pour ma part, gros problème d'équilibre REDOX et très difficile de trouver des solutions. Et ici, ça marche... ça change la vie.
Nutrigenomic Recovery
Top produit