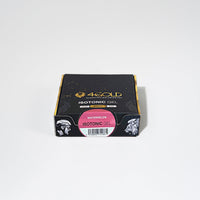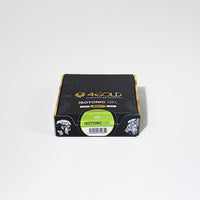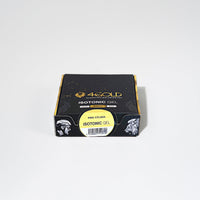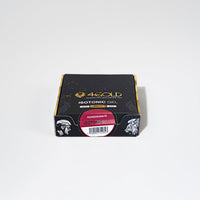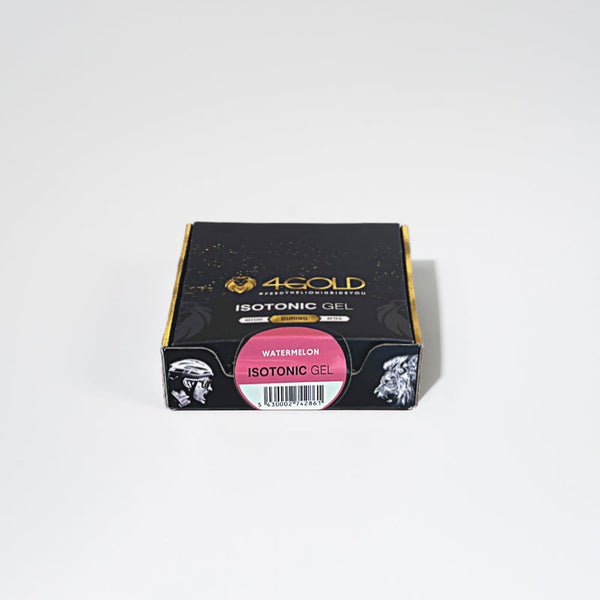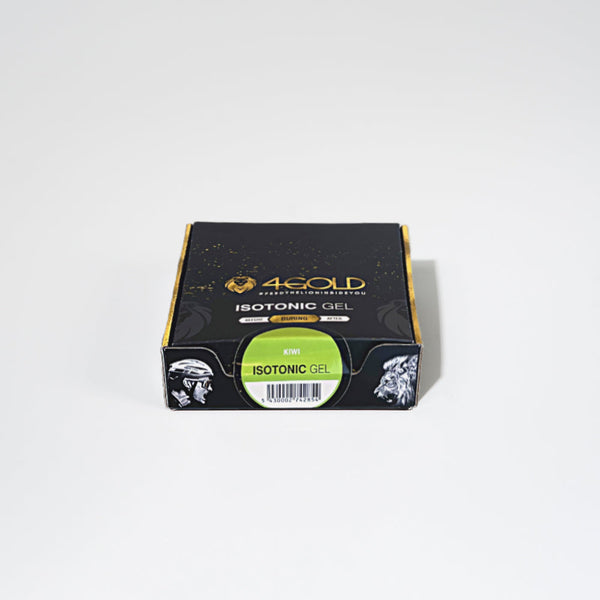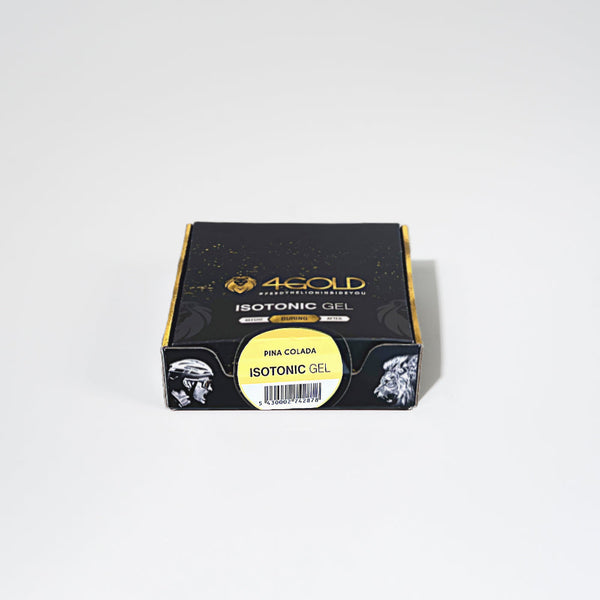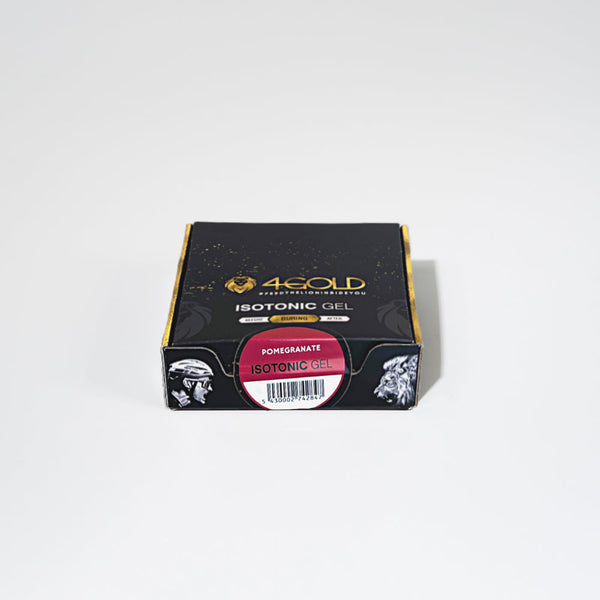 Our Isotonic Gels contain a 2:1 mix of high quality carbohydrates that provide you with long-term energy during exercise.
Choose size: 12 gels of 45ml 
Due to raw material issues, the discovery boxes temporarily do not contain Pomegranate, these were replaced with the 3 other flavors. 
Choose Taste
Discovery
Watermelon
Kiwi
Pomegranate
Pina Colada
Safe to use, every batch is tested 

Proudly made in Benelux
Quickly replenish your energy reserves during training or competition.
Contains 29,8 g of high quality carbohydrates in a 2:1 ratio 

Developed to be consumed without extra water

Scientifically developed and used by top athletes
FAST ABSORBABLE ENERGY
Carbohydrates provide glucose to the body. It is the body's primary fuel and thus the quickest and most efficient generator of energy. As a result, it continuously fuels the energy metabolism to a great extent, and its role in fuel partitioning becomes more important with physical activity, especially at high intensity. The body's own glucose stores, known as glycogen, are limited, and their depletion determines endurance.

Our Isotonic gel contains high quality carbohydrates like maltodextrin, dextrose and fructose in a 2:1 ratio (glucose/fructose) to maximise energy and moisture absorption. The carbohydrate-electrolyte solution contributes to the maintenance of performance during prolonged endurance exercise.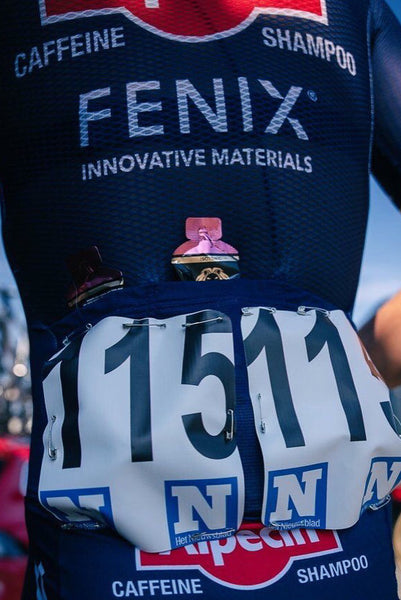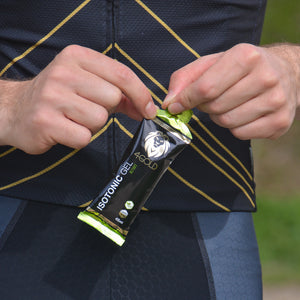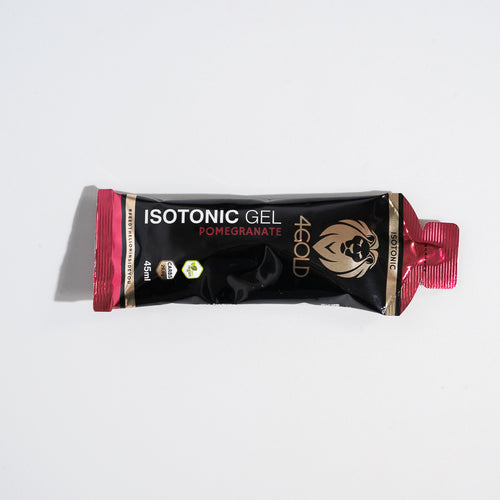 OTHER INGREDIENTS
During high intensity efforts it can be difficult to consume an energy gel and drinking extra water. We have developed our Isotonic gel to be consumed without any extra water.

Beside that we have added electrolytes like potassium, sodium, magnesium and calcium.
FAQ
Is this product vegan friendly?
Yes, it is.
Do I need to add water when taking the isotonic gel?
No, we have developed our isotonic gel to be consumed without any extra water.
Will the isotonic gels give me energy?
Yes! Our isotonic gel contains 29,8g of carbohydrates in a 2:1 ratio (glucose/fructose) to maximise energy and moisture absorption. The carbohydrate-electrolyte solution contributes to the maintenance of performance during prolonged endurance exercise.
Are the isotonic gels tested for banned substances?
Yes, it is. Every single supplement of our product range is third party tested for banned substances. 4Gold provides full transparency, you can check your product's batch number
here
.
Customer Reviews
Write a Review
Ask a Question
Filter Reviews:
gels
taste
pina colada
energy
4Gold
flavor
delivery
salidas
solution
Gran Fondo
26/09/2023
Jinthe K.

Belgium
isotonic gels
Ik heb lang moeten zoeken naar gels die mijn maag konden verdragen en met deze gels kwam er een einde aan de zoektocht en ze zijn nog eens lekker ook.
26/09/2023
Bram D.

Belgium
Aankoop Isotonic Gel
Lekker van smaak en zeer vloeibaar. Makkelijk in te nemen. Ik kan dit product aan iedereen aanraden!
21/09/2023
Gregory H.

United States
These are The Best Gels!
Not really gels like the thick, sometimes gooey gels I've tried in the past. These are very fluid and are easily extracted from the packets. I am not the super pro athlete that would benefit most from this product, but I like my riding calories to be easily replenished and these make that easy. Plus, the flavours rock! Make sure you order the Discovery flavor. Now, if 4GOLD could just get production back up on those energy bars...
19/09/2023
Jonatan G.

Spain
Muy buenos
Solo los uso esporádicamente para largas distancias, no sienta mal al estomago ni se hace pesado al estomago, lo tomo sin agua no es necesario, en resumen sientan bien al estomago y te quitan la fatiga, empieza hacer efecto a los treinta minutos aprox. El precio es acorde con otros que usé, los costes de envío son demasiado caros.
12/09/2023
Frederik B.

Belgium
Pina Colada as dessert!
Great product, good price, instant energy, ... During long sessions I keep the Pina Colada as the last one for dessert :)
10/09/2023
Dennis P.

Netherlands
Great for cycling and running!
Really tastefull and gives a boost during rides. Lovely flavours, even the pina colada is okay. I would recommend these to any cyclist or runner. I know I'll buy another pack when I run out.
06/09/2023
Arno V.

Belgium
Lekker
Top ! zeer lekkere smaken!
29/08/2023
JK S.

Netherlands
Isotonic gels 4Gold
Easy to open/squeez and digest. Refreshing tast. Great!
29/08/2023
Paulien V.

Netherlands
Sweet like syrup
The gels are too sweet for my taste - I'm reverting back to other brands that have a less sweet and also less chemical flavour. On a positive side: no gut issues with these gels at all.
27/08/2023
Michou B.

Belgium
Top Gels
Altijd al wat last gehad van nuttigen van Isotone Gels, maar met 4gold niks van last en ze zijn bovenop ook lekker en vloeibaar genoeg. Gewoon top
23/08/2023
Dirk W.

Belgium
Super gel
Heel lekker, voldoet meer dan ! GOED SPUL, mmm
22/08/2023
Loic C.

Belgium
Isotonic gels kiwi
Fast delivery Excellent texture, they do their job! Perfect for every ride or competition
22/08/2023
Wout L.

Belgium
Great taste and easy to open during run!
Taste is great and more importantly you can open them quickly during running.
22/08/2023
Koen D.

Belgium
4GOLD
I always had a lot of stomach problems with other isotonic gels. I tolerate this perfectly.
20/08/2023
Patrick D.

Belgium
20/08/2023
Garikoitz E.

Spain
Perfect!!
Me están ayudando mucho en mis salidas de btt.Combinados con unos de cafeína van muy bien.Gracias.
"The isotonic gels of 4Gold are perfect to use on the bike. The texture is great and you feel the energy. With high quality products of 4Gold, you can perform at your best!"
ALBERTO CONTADOR
Multiple grand tour winner
"The isotonic gels have a perfect texture to take while running, ideal that you do not need to drink with them and the packaging is also very easy to open even when you're running fast."
BASHIR ABDI
European record holder on the marathon